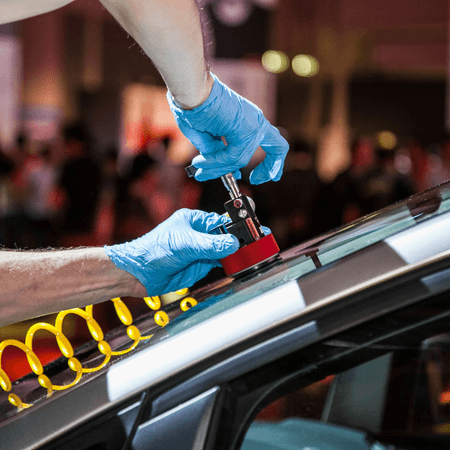 How's your windshield looking? Did you get a chip or crack recently? The bad news is that if you don't take care of it right away, it's going to become a much more serious and ultimately very expensive problem. Did you know that? If so, you're probably looking for experts in windshield repair in Pharr, TX.
Some Good News
The good news is that we're here to help. Our highly-trained and experienced technicians possess the equipment and all of the know-how needed for handling any windshield repair. They'll start by quickly evaluating the damage that your windshield has sustained to determine whether it's repairable or not. If it is, they'll repair it just as fast. If it can't be repaired, then they can replace your windshield for you.
What About Cracks?
If your windshield has a repairable long crack, you can count on our technicians to repair it right by cleaning every little bit of moisture and dirt from it, so the resin gets a tight seal. After they inject the crack with resin, they'll continue by curing it with a UV light, capping and polishing it. What you'll have then is a solid repair that's strong, minimally visible, and fully sealed against any worsening damage.
Services Provided
The services we provide include:
Auto Camera Calibrations in
Pharr TX
Commercial & Dealership Services in Pharr TX
Long Crack Windshield Repairs in Pharr TX
Windshield Chip Repairs in
Pharr TX
Windshield Replacements in Pharr TX
Safety First
Windshield repairs aren't just about convenience, you know. They're also about safety and that's exactly why we're fully insured and hire only the very best local technicians. In addition, we don't just replace windshields. If your car has a safety camera, it needs to be recalibrated after replacing the windshield. It's our pleasure to assist you with this as well so that all of your car's safety features will work smoothly (like they should) when you drive off our lot.
Don't Put It Off
A chip or even a crack might look really small, but it's still not a good idea to put off getting windshield repair in Pharr TX . Any little chip could weaken your windshield's overall structural integrity. In fact, vibrations from your engine when it's running can keep weakening your windshield in the area around the chip, which will cause cracks to spread out from it. So, the sooner you can bring it to us, the quicker we can fix it and restore its structural integrity.
Contact Us Today!
Taking care of your windshield is incredibly important to us, and we will use all of our expertise and experience to get the job done right. So, contact us today to receive your free quote for windshield repair in Pharr.